U.S. stock futures edged higher on Wednesday after Salesforce posted robust quarterly results, while investors awaited private jobs and factory activity data for cues on the strength of the U.S. economy.
Market Snapshot
At 08:12 a.m. ET, Dow e-minis were up 130 points, or 0.39%, S&P 500 e-minis were up 9 points, or 0.22%, and Nasdaq 100 e-minis were up 28 points, or 0.22%.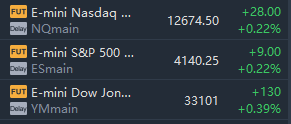 Pre-Market Movers
Capri Holdings(CPRI) – The parent of luxury brands, like Michael Kors, Versace and Jimmy Choo, saw its stock surge 11% in the premarket after posting better-than-expected quarterly numbers before giving back nearly all those gains. Capri earned an adjusted $1.02 per share, 20 cents above estimates, and managed to expand profit margins in the face of pandemic-related issues. However, the company issued a lighter-than-expected revenue forecast for the full year.
HP Inc.(HPQ) – HP beat estimates by 3 cents with an adjusted quarterly profit of $1.08 per share. The computer and printer maker's revenue also topped Street forecasts. HP raised its profit outlook, benefiting from strong commercial customer demand despite supply chain disruptions.
Salesforce(CRM) – Salesforce rallied 9.1% in the premarket after beating analyst estimates by 4 cents with an adjusted quarterly profit of 98 cents per share. The business software giant also beat revenue forecasts and raised its full-year guidance amid continued strong demand.
Victoria's Secret(VSCO) – Victoria's Secret jumped 6.8% in premarket trading despite posting a mixed quarter. The intimate apparel retailer's adjusted earnings of $1.11 per share for its latest quarter beat the 84-cent consensus estimate, and revenue matched forecasts. Current-quarter earnings guidance fell below some forecasts. The company was able to negate the bottom-line impact of supply chain issues and muted consumer spending.
Weibo(WB) – The China-based social media company reported better-than-expected profit and revenue for its latest quarter. The company added users and called its ad business "relatively resilient" in the face of the country's Covid lockdowns. Weibo jumped 5.5% in premarket action.
Ambarella(AMBA) – Ambarella slid 3.8% in premarket trading after the chipmaker issued a current-quarter revenue forecast below analyst estimates, due to the negative impact from China's Covid lockdowns. Ambarella posted a top and bottom-line beat for its latest quarter.
ChargePoint Holdings(CHPT) – ChargePoint's adjusted loss for its latest quarter was 21 cents per share, 2 cents more than analysts were anticipating. The electric vehicle charging network operator's revenue topped forecasts. ChargePoint also issued lighter-than-expected revenue guidance for the current quarter and full year, as it deals with global supply constraints. The stock fell 2.3% in premarket action.
Li Auto(LI) – The China-based electric vehicle maker delivered 11,496 vehicles in May, up 166% from a year earlier. Li shares added 2% in the premarket.
Nio(NIO) – Nio delivered 7,024 vehicles in May, a 4.7% rise from a year earlier. The China-based electric vehicle maker also said vehicle deliveries are up 11.8% for 2022 compared with the first five months of 2021. Nio rose 1.6% in premarket trading.
Xpeng(XPEV) – Xpeng delivered 10,125 electric vehicles last month, 78% more than a year ago, with year-to-date deliveries more than doubling compared with a year earlier. The China-based company's stock added 1.3% in the premarket.
Market News
Elon Musk Reportedly Tells Tesla Staff Working Remotely Is No Longer an Option
Elon Musk responded to an apparent leaked email and entitled: "Remote work is no longer acceptable."
"Anyone who wishes to do remote work must be in the office for a minimum (and I mean 'minimum') of 40 hours per week or depart Tesla. This is less than we ask of factory workers," said the email dated May 31 and signed "Elon."
Broadcom Can Avoid the Conglomerate Curse
Broadcom will look like a very different company next year. The trick will be making sure the right things stay the same.
The $61 billion acquisition of VMware unveiled last week sets the chip maker on a path to becoming a new type of technology conglomerate. After the deal closes — currently expected sometime in Broadcom's fiscal year ending in October 2023 — about half the company's total revenue will come from software. That mix could tilt even further if the current chip shortage ever eases and the semiconductor industry reverts back to its cyclical nature. Global chip sales have dropped in six of the past 20 years, according to data from the Semiconductor Industry Association.
Former AstraZeneca Exec Charged With Insider Trading in Daiichi Sankyo's Licensing Deal
Buying 500 shares of Daiichi Sankyo stock 16 days before the company signed a lucrative licensing deal with AstraZeneca has a former AZ executive in the Securities and Exchange Commission's crosshairs.
According to an SEC complaint, Hugues Joublin, Ph.D.—who was AZ's global head of corporate affairs for oncology—has been charged with taking advantage of his advance knowledge of the 2019 deal to buy $20,000 worth of stock.
Apple to Shift iPad Capacity to Vietnam Amid China Supply Chain Woes
For the first time ever Apple is moving some iPad production out of China and shifting it to Vietnam after strict COVID lockdowns in and around Shanghai led to months of supply chain disruptions, Nikkei Asia has learned.
The U.S. company has also asked multiple component suppliers to build up their inventories to guard against future shortages and supply snags, sources said.